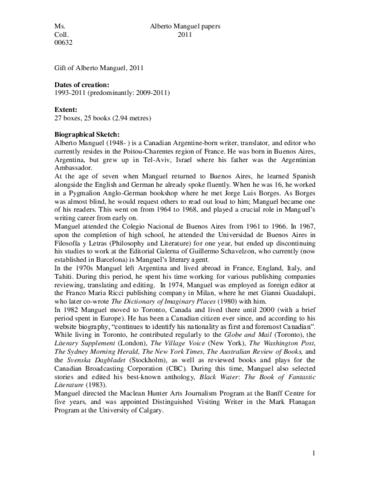 Zone d'identification
Titre
Alberto Manguel Papers
Étendue matérielle et support
27 boxes, 25 books (2.94 metres)
Zone du contexte
Nom du producteur
(1948-)
Notice biographique
Alberto Manguel was born in Buenos Aires in 1948, and is now a Canadian citizen. After spending his childhood in Israel, where his father was the Argentine ambassador, he attended school in Argentina. In 1968 he left for Europe and, with the exception of one year back in Buenos Aires where he worked as a journalist for the newspaper La Nacion, he lived in Spain, France, England and Italy earning an itinerant living as a reader for various publishing companies. In the mid-seventies he was offered (and accepted) a job as assistant editor at Les Editions du Pacifique, a publishing company in Tahiti. In 1982, after the publication of The Dictionary of Imaginary Places (written with Gianni Guadalupi) he moved to Canada. He has edited a dozen anthologies of short stories on themes ranging from fantastic literature to erotic literature, and he has written several books of fiction and non-fiction. Among them, A History of Reading, translated into over thirty languages, Into the Looking-Glass Wood, Reading Pictures, and the novels News From A Foreign Country Came and Stevenson Under the Palm Trees. He contributes regularly to newspapers and magazines around the world.
Source immédiate d'acquisition ou de transfert
Gift of Alberto Manguel, 2011
Zone du contenu et de la structure
Portée et contenu
This accession for Alberto Manguel's Papers includes archival material and work related to his life predominantly between the years of 2009-2011. Featured within this accession are new manuscript drafts for novels; music and art projects for the Fondation Cartier: Moebius - Transe Forme Exhibit ("Metamorphoses" anthology by A.M.), and for the Metropolitan Opera; original drawings; other writers' manuscripts and page proofs; material pertaining to various lectures, seminars and readings; printed books; periodicals; magazine appearances; clippings; the Lettres d'Automne and Montauban DVDs; 2007 Massey Lecture: The City of Words CD; and significant correspondence with Westwood Agency, Schavelzon Agency, and author, Isabel Huggan.
Évaluation, élimination et calendrier de conservation
Mode de classement
Contains series:
Manuscripts: English, Spanish, French, German (pp. 1-2)
Essays (p. 2)
Projects (pp. 3-4)
Non-Alberto Manguel works - other people's manuscripts (pp. 4-6)
Juries and Committees (p. 6)
Correspondence – Business [Agencies] (pp. 6-7)
Correspondence – Personal (pp. 7-8)
Lectures, Seminars and Readings (pp. 8-11)
Audio-Visual Materials – DVDs and CDs (pp. 11-12)
Magazines (pp.12-14)
Antiquarian book catalogues (p. 14)
Newspaper clippings (p. 16)
Un Retour (p. 16)
Miscellaneous items (p. 16)
Zone des conditions d'accès et d'utilisation
Conditions de reproduction
Langue des documents
anglais
français
espagnol
Notes sur la langue et l'écriture
Caractéristiques matérielle et contraintes techniques
Instruments de recherche
Instrument de recherche téléversé
Zone des sources complémentaires
Existence et lieu de conservation des originaux
Existence et lieu de conservation des copies
Unités de description associées
Zone des notes
Identifiant(s) alternatif(s)
Identifiant de la description
Identifiant du service d'archives
Thomas Fisher Rare Book Library, University of Toronto
Règles et/ou conventions utilisées
Objet numérique - métadonnées
Objet numérique (Matrice) zone des droits
Objet numérique (Référence) zone des droits
Objet numérique (Imagette) zone des droits