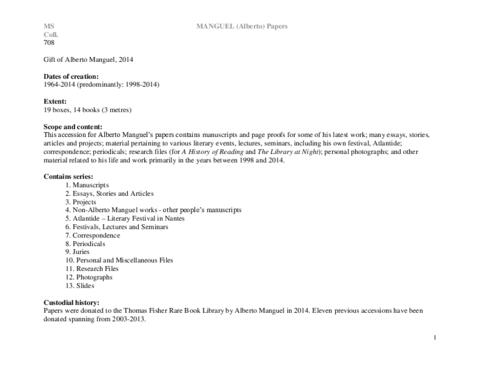 அடையாளப் பரப்பு
உசாத்துணைக் குறி
CA OTUTF MS COLL 00708
தலைப்பு
Alberto Manguel Papers
சூழமைவுப் பரப்பு
ஆக்கியவரின் பெயர்
(1948-)
வாழ்க்கை வரலாற்று வரலாறு?
Alberto Manguel was born in Buenos Aires in 1948, and is now a Canadian citizen. After spending his childhood in Israel, where his father was the Argentine ambassador, he attended school in Argentina. In 1968 he left for Europe and, with the exception of one year back in Buenos Aires where he worked as a journalist for the newspaper La Nacion, he lived in Spain, France, England and Italy earning an itinerant living as a reader for various publishing companies. In the mid-seventies he was offered (and accepted) a job as assistant editor at Les Editions du Pacifique, a publishing company in Tahiti. In 1982, after the publication of The Dictionary of Imaginary Places (written with Gianni Guadalupi) he moved to Canada. He has edited a dozen anthologies of short stories on themes ranging from fantastic literature to erotic literature, and he has written several books of fiction and non-fiction. Among them, A History of Reading, translated into over thirty languages, Into the Looking-Glass Wood, Reading Pictures, and the novels News From A Foreign Country Came and Stevenson Under the Palm Trees. He contributes regularly to newspapers and magazines around the world.
Immediate source of acquisition or transfer
Gift of Alberto Manguel, 2014
உள்ளடக்கம், கட்டமைவுப் பரப்பு?
நோக்கமும் உள்ளடக்கமும்
This accession for Alberto Manguel's papers contains manuscripts and page proofs for some of his latest work; many essays, stories, articles and projects; material pertaining to various literary events, lectures, seminars, including his own festival, Atlantide; correspondence; periodicals; research files (for A History of Reading and The Library at Night); personal photographs; and other material related to his life and work primarily in the years between 1998 and 2014.
Contains series:
Manuscripts
Essays, Stories and Articles
Projects
Non-Alberto Manguel works - other people's manuscripts
Atlantide – Literary Festival in Nantes
Festivals, Lectures and Seminars 7. Correspondence
Periodicals
Juries
Personal and Miscellaneous Files
Research Files
Photographs
Slides
Appraisal, destruction and scheduling
அணுக்கம், பயன் பரப்பு நிபந்தனைகள்?
அணுக்க ஆளுகை நிபந்தனைகள்?
Conditions governing reproduction
Language and script notes
இயற்பியல் சிறப்பியல்புகளும் தொழில்நுட்பத் தேவைகளும்
உதவு கருவி பதிவேற்றப்பட்டுள்ளது
தொடர்புடைய பொருட் பரப்பு
Existence and location of originals
Existence and location of copies
Related units of description
குறிப்புகள் பரப்பு
மாற்று அடையாளம்காட்டிகள்/ இனங்காணி?
அணுக்க நுழைவாயில்கள்/ அணுகுமுனைகள்?
பொருட்துறை அணுக்க நுழைவாயில்கள்
பெயர் அணுக்க நுழைவாயில்கள்
வகைமை அணுக்க நுழைவாயில்கள்?
விவரிப்பு அடையாளம்காட்டி
CA OTUTF MS COLL00708
நிறுவன அடையாளம்காட்டி
Thomas Fisher Rare Book Library, University of Toronto
Rules and/or conventions used
Digital object (Master) rights area
Digital object (Reference) rights area
Digital object (Thumbnail) rights area