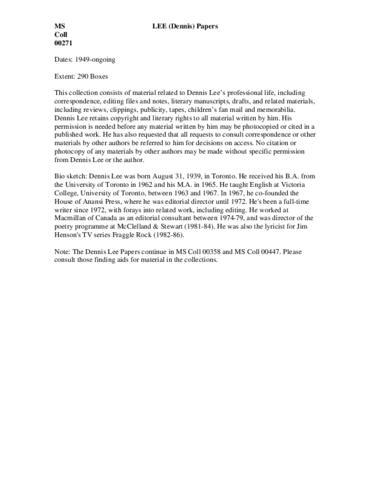 Zone d'identification
Étendue matérielle et support
Zone du contexte
Nom du producteur
(1939-)
Notice biographique
Dennis Lee was born August 31, 1939, in Toronto. He received his B.A. from the University of Toronto in 1962 and his M.A. in 1965. He taught English at Victoria College, University of Toronto, between 1963 and 1967. In 1967, he co-founded the House of Anansi Press, where he was editorial director until 1972. He's been a full-time writer since 1972, with forays into related work, including editing. He was a writer-in-residence at Trent University (1975) and the University of Toronto (1978-1979). He worked at Macmillan of Canada as an editorial consultant between 1974-79, and was director of the poetry programme at McClelland & Stewart (1981-84). He was also the lyricist for Jim Henson's TV series Fraggle Rock (1982-86). He is well-known for his children's books, including Alligator Pie (1974) and Nicholas Knock and Other People (1974), which seek to encourage free imaginative play and break away from colonial mentality and history. He has published many books of prose and poetry including Civil Elegies and Other Poems (1972), Nighwatch: New & Selected Poems 1968-1996 (1996), and YesNo (2007). Lee won the Governor General's Award for Poetry in 1972 and 2007, he was made an Officer of the Order of Canada in 1993, and was Toronto's first Poet Laureate from 2001-2004.
Source immédiate d'acquisition ou de transfert
Accession, 1979, 1984, 1988
Zone du contenu et de la structure
Portée et contenu
This collection consists of material related to Dennis Lee's professional life, including correspondence, editing files and notes, literary manuscripts, drafts, and related materials, including reviews, clippings, publicity, tapes, children's fan mail and memorabilia.
Évaluation, élimination et calendrier de conservation
Zone des conditions d'accès et d'utilisation
Conditions d'accès
Dennis Lee retains copyright and literary rights to all material written by him. His permission is needed before any material written by him may be photocopied or cited in a published work. He has also requested that all requests to consult correspondence or other materials by other authors be referred to him for decisions on access. No citation or photocopy of any materials by other authors may be made without specific permission from Dennis Lee or the author.
Material may be requested in person at the Fisher Library Reference Desk, or in advance using our online stack retrieval request form: https://fisher.library.utoronto.ca/stack-retrieval-request
Conditions de reproduction
Notes sur la langue et l'écriture
Caractéristiques matérielle et contraintes techniques
Instruments de recherche
Zone des sources complémentaires
Existence et lieu de conservation des originaux
Existence et lieu de conservation des copies
Unités de description associées
Zone des notes
Identifiant(s) alternatif(s)
Identifiant de la description
Identifiant du service d'archives
Thomas Fisher Rare Book Library, University of Toronto
Règles et/ou conventions utilisées
Objet numérique - métadonnées
Objet numérique (Matrice) zone des droits
Objet numérique (Référence) zone des droits
Objet numérique (Imagette) zone des droits