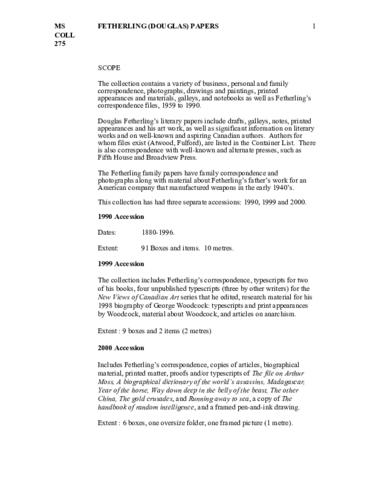 Zone d'identification
Titre
Douglas Fetherling Papers
Étendue matérielle et support
91 boxes and item (10 metres)
Zone du contexte
Source immédiate d'acquisition ou de transfert
Zone du contenu et de la structure
Portée et contenu
The collection contains a variety of business, personal and family correspondence, photographs, drawings and paintings, printed appearances and materials, galleys, and notebooks as well as Fetherling's correspondence files, 1959 to 1990.
Douglas Fetherling's literary papers include drafts, galleys, notes, printed appearances and his art work, as well as significant information on literary works and on well-known and aspiring Canadian authors. Authors forwhom files exist (Atwood, Fulford), are listed in the Container List. There is also correspondence with well-known and alternate presses, such as Fifth House and Broadview Press.
The Fetherling family papers have family correspondence and photographs along with material about Fetherling's father's work for an American company that manufactured weapons in the early 1940's.
Évaluation, élimination et calendrier de conservation
Zone des conditions d'accès et d'utilisation
Conditions de reproduction
Notes sur la langue et l'écriture
Caractéristiques matérielle et contraintes techniques
Instruments de recherche
Zone des sources complémentaires
Existence et lieu de conservation des originaux
Existence et lieu de conservation des copies
Unités de description associées
Zone des notes
Identifiant(s) alternatif(s)
Identifiant de la description
Identifiant du service d'archives
Thomas Fisher Rare Book Library, University of Toronto
Règles et/ou conventions utilisées
Objet numérique - métadonnées
Objet numérique (Matrice) zone des droits
Objet numérique (Référence) zone des droits
Objet numérique (Imagette) zone des droits