This page contains information for users regarding the searching and browsing of archival descriptions in Discover Archives
1. BROWSING
2. BASIC SEARCH
3. ADVANCED SEARCH
4. SEARCHING WITHIN A SPECIFIC FONDS, COLLECTION OR MANUSCRIPT COLLECTION
5. ADDING ITEMS TO THE CLIPBOARD
6. PDF FINDING AIDS
7. READING ARCHIVAL DESCRIPTIONS
1. BROWSING
In Discover Archives, it is possible to browse descriptions, persons and organizations, and archival institutions. The categories can be browsed under the Browse by heading located underneath the Help pages or by clicking on the Browse button next to the Search Box on the top left side of the page.
Note: Browsing archival descriptions will return top-level descriptions only.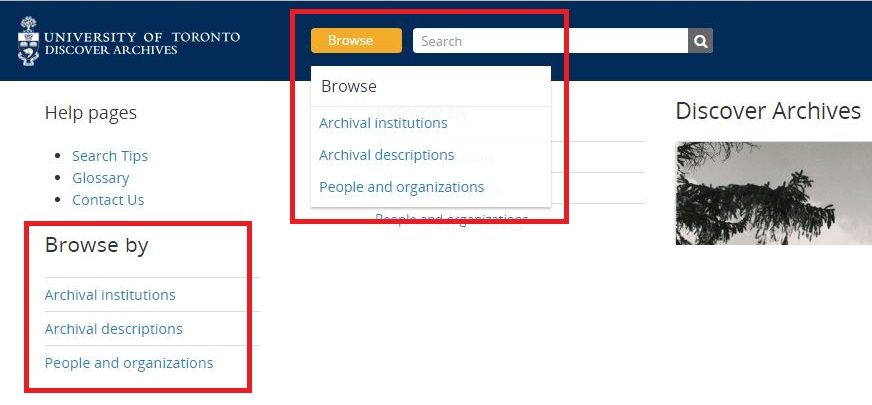 ---
Archival Descriptions:
Users can browse all descriptions in Discover Archives. To do this, simply click on the Archival Descriptions link. Users can also limit their selection by Archival Institution, Creator, Name, Format and Level of Description using the subheadings area in the left browsing menu.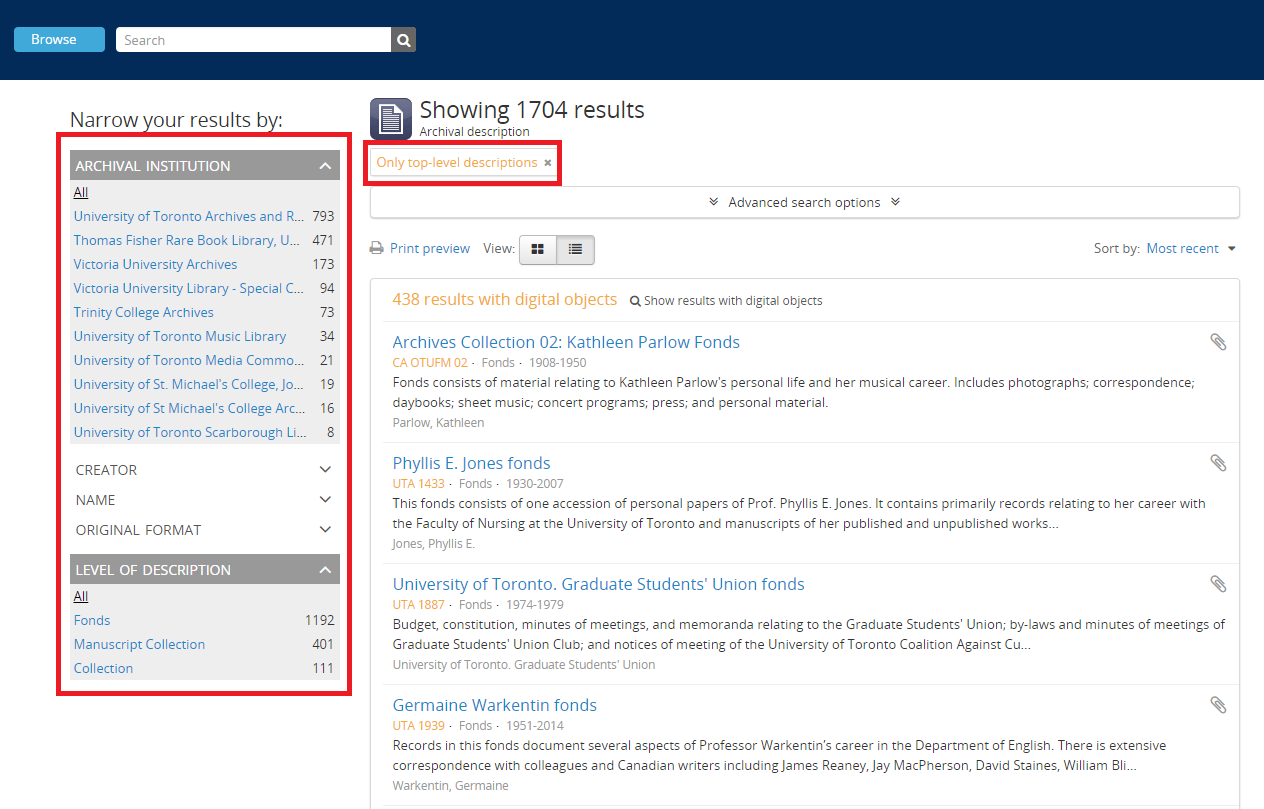 Archival Institutions:
Users can restrict their browsing to a specific repository using Discover Archives. When a user clicks on Archival Institution, icons of all institutions using the platform will appear. Simply click on the institution whose holdings you would like to browse.
People and Organizations:
Users can browse the names of people and organizations which are associated with a specific fonds or collection by
selecting the People and Organizations link.
The user will be presented with an alphabetical listing of people and organizations.
Users can limit the results by clicking on a specific entity type, (i.e. Person, Corporate body, Family)
Users may also want to do a general search for the person, family or organizations
And users can also sort the list by Most recent, Alphabetically, or by Identifier.


↩ top of page




2. BASIC SEARCH

To conduct a basic search, type your search term in the Search box at the top of the screen. The search will return results from all archival institutions using Discover Archives.

As you type into the search box, suggestions will appear in the drop-down. Click on one to go to that record OR
to see a list of archival descriptions that relate to your search term, hit 'ENTER' on your keyboard (or click the magnifying glass next to the search box)







Results from the search will be shown in the centre area of the page.
Once search results are returned users can limit their results using the facets in the left menu.



↩ top of page




3. ADVANCED SEARCH

To conduct an advanced search, click on the Advanced search option in the Search box.






The advanced search allows you to identify specific fields to search for your keywords or phrases and to filter and limit results.

1. Limit your search query to a specific field in the archival descriptions, for example the title or the scope and content.





2. Build up complex queries using Boolean search operators - by using these operators, you can narrow your search, combine terms, or exclude terms.





Use AND to combine search terms to narrow your search: e.g. search Toronto AND "city hall" to return only descriptions that contain both search terms
Use OR to combine search terms to broaden your search: e.g. search Toronto OR "city hall" to return descriptions that contain either search term
Use AND NOT to exclude terms: e.g. search Toronto AND NOT "city hall" to return descriptions that include Toronto but do not contain the phrase "city hall"





For other Boolean operators, see the page Search Tips: Boolean operators




3. Narrow your searches by applying filters to:

Repository (archival institution)

Will limit the search to the holdings of a specific repository
Example - University of Toronto Archives and Records Management Services.

Top-level description (i.e. fonds, collection, manuscript collection)

Will limit the search to a specific fonds, collection or manuscript collection
Example - UTSC Photographic Services collection





Level of description

Will limit the results to a specific level of description (fonds, collection, manuscript collection, sous fonds, series, subseries, file, item).

Digital object available

Use this filter to determine if the search results returned include digital objects (e.g. images, audio or video files, text documents, etc.), or by selecting "No", include only results without digital objects.

Finding Aid

Use this filter to determine if the search results returned include descriptions that have a finding aid attached, by selecting "Yes", or by selecting "No", include results without finding aids.

Top-level descriptions vs. all descriptions

Top-level descriptions (Fonds, Collections and Manuscript Collection) provide overviews of the records, whereas the lower-levels of description will be more specific to that particular record grouping.





Filter by date range

Search for any records whose active dates of creation either overlap, or fall exactly within, a selected range.


↩ top of page




4. SEARCHING A SPECIFIC FONDS, COLLECTION OR MANUSCRIPT COLLECTION

Once you have a navigated to a top-level description, you can easily search within the lower-levels of the description itself using the Quick Search box in the left sidebar.

Enter your search term and hit ENTER on your keyboard (or click the magnifying glass next to the search box).

Click on any of the results that appear in the list to go to that record OR
To see a detailed list of all the results, click Browse all descriptions


↩ top of page




5. ADDING ITEMS TO THE CLIPBOARD




Users can select records while searching and browsing and add them to a list (the "clipboard") for later review and further action. This can be useful for users who may wish to consult records in-person.

On the archival description search and browse results page, a "paper clip" icon appears in the upper-right corner of each result stub. Click on this icon to add the result to the clipboard.






To view items saved to the clipboard, click on the "paper clip" icon in the top header bar, and go to the clipboard page.



↩ top of page




6. PDF FINDING AIDS

Institutions have the ability to attach PDF finding aids of the archival descriptions. Users can then download a copy of the finding aid - a download button will appear in the right sidebar if a PDF finding aid has been attached.





In some instances, there will be multiple finding aids combined into one PDF. Within the PDF, there will be bookmarks to facilitate navigation.


↩ top of page




7. READING ARCHIVAL DESCRIPTIONS

Archival descriptions are hierarchical and information at the different levels go from the general to the specific. At the fonds, collection, or manuscript collection levels, the description will provide an overview of all the material in the fonds, collection or manuscript collection. The series description provides and overview of records grouped together because they were created as a result of a similar function or activity, record type, or subject. A file description provides information about material housed in a file or files that are related by use or by topic.

For further definitions of archival terms and concepts used within Discover Archives, consult the Glossary.


↩ top of page

---

Last updated: 2018-01-24