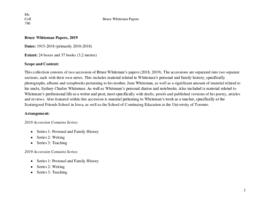 Bruce Whiteman Papers - Downsview
This collection consists of two accession of Bruce Whiteman's papers (2018, 2019). The accessions are separated into two separate
sections, each with their own series. This includes material related to Whiteman's personal and family history, specifically
photographs, albums and scrapbooks pertaining to his mother, June Whiteman, as well as a significant amount of material related to
his uncle, Sydney Charles Whiteman. As well as Whiteman's personal diaries and notebooks. Also included is material related to
Whiteman's professional life as a writer and poet, most specifically with drafts, proofs and published versions of his poetry, articles
and reviews. Also featured within this accession is material pertaining to Whiteman's work as a teacher, specifically at the
Scattergood Friends School in Iowa, as well as the School of Continuing Education at the University of Toronto.
2018 Accession Contains Series:
• Series 1: Personal and Family History
• Series 2: Writing
• Series 3: Teaching
2019 Accession Contains Series:
• Series 1: Personal and Family History
• Series 2: Writing
• Series 3: Teaching