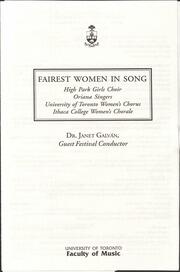 CA OTUFM 51-CS99/00-FE-CD 1999 56-57
File
Saturday, October 16, 1999
File consists of a recording of the concert.
Performers: High Park Girls Choir (Ann Cooper Gay, conductor ; Errol Gay, accompanist) ; Oriana Singers (William Brown, conductor ; Ruth Watson Henderson, accompanist) ; University of Toronto Women's Chorus (Doreen Rao, conductor ; Ted Mulroney, accompanist) ; Ithaca College Women's Chorale ; Dr. Janet Galvan, Guest Festival Conductor.
Event tracks :
Dixit Dominus. Dixit Dominus / Baldassare Galuppi
Bogh predvichniy / Ukranian Carol (arr. Anonymous)
Rise up, my love / Eleanor Daley
The blooming bright star of Belle Isle / Newfoundland Folk Song (arr. Eleanor Daley)
Song for Christina / Errol Gay & Alexander Rapoport
Requiem. In Remembrance / Eleanor Daley
Heart we will forget him / James Mulholland (Erin Cooper Gay, horn)
I'se the B'y / Newfoundland Folk Song (arr. John E. Govedas) (John Govedas, piano)
Come Ye Makers of Song ; When Music Sounds ; Johnny's gone a-sailing ; Nell Flaherty's Drake / Ruth Watson Henderson
Missa Brevis. Kyrie ; Gloria / Stephen Hatfield
Angels are everywhere / Daniel Pinkham
Cantique de Jean Racine / Gabriel Fauré
Vestigia / Imant Raminsh (Mark Skazinetsky, violin ; Simon Fryer, cello)
Sanctus / Rupert Lang
Danny Boy / Irish Traditional (arr. Dana Wilson)
I cannot hold you / Dana Wilson
Guaya Canal / Cantan / Francisco Nunez
How do I love Thee / Nathan Christensen
Echoing Green / William Mathias
My heart's friend / Imant Raminsh
Fairest Lady / Nick Page
Mayim / Peter Rothbart.
Composers :
Galuppi, Baldassare, 1706-1785
Daley, Eleanor, 1955-
Rapoport, Alexander, 1957-
Mulholland, James
Govedas, John E., 1950-2005
Henderson, Ruth Watson, 1932-
Hatfield, Stephen
Pinkham, Daniel
Fauré, Gabriel, 1845-1924
Raminsh, Imant,1943-
Lang, Rupert
Wilson, Dana
NuìnÞez, Francisco
Mathias, William
Page, Nick, 1952-
Rothbart, Peter