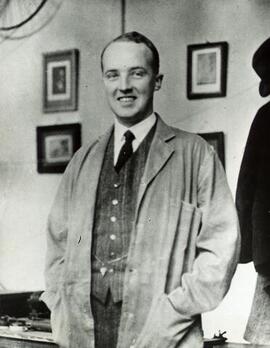 CA OTUTF MS COLL 00241
Manuscript Collection
1928-1985
1982 Accession:
Correspondence, research notes and articles, offprints of his published research and of his colleagues including Banting and McLeod, his other writings and lectures, biographical material, photographs, films, slides, records, tapes, and cassettes.
2003 Accession:
Includes material related to the discovery of insulin at the University of Toronto; Margaret Mahon Best's journals 1925-1984(75) describing their life and extensive travels following the discovery, plus several holograph notebooks about Sandy and Henry as
children, and from MMB's childhood, 1914-1919; original course notes of Charles Best; original holograph insulin manuscript; research, drafts, correspondence and other material related to Margaret and Charley by Henry Best; letters of correspondence to
MMB and HB regarding the death of Alexander (Sandy) Best and Charles Best; letters scientific to Dr. Best; 'Dear Jessie' letters from Linda Mahon on her travels with Margaret and Charley to her cousin Jessie at home in Toronto; H.H. Dale letters; photographic images of awards, citations, etc. given to CB; other material related to the discovery of insulin and the writing of the book on their lives by their son, Henry Best.
Best, Charles Herbert