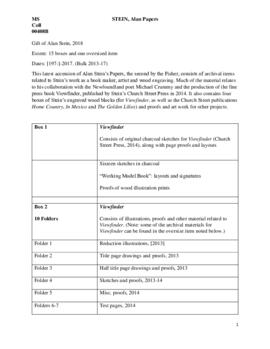 This latest accession of Alan Stein's Papers, the second by the Fisher, consists of archival items
related to Stein's work as a book maker, artist and wood engraving. Much of the material relates
to his collaboration with the Newfoundland poet Michael Crummy and the production of the fine
press book Viewfinder, published by Stein's Church Street Press in 2014. It also contains four
boxes of Stein's engraved wood blocks (for Viewfinder, as well as the Church Street publications
Home Country, In Mexico and The Golden Lilies) and proofs and art work for other projects.