Aperçu avant impression
Fermer

Affichage de 3 résultats
Description archivistique
Manuscript Collection
1958-2008
Ormsby, Eric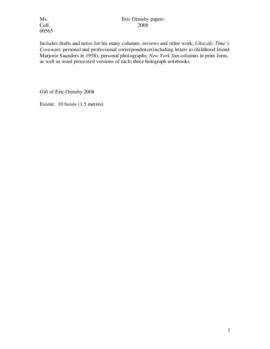 Includes drafts and notes for his many columns, reviews and other work; Ghazali; Time's Covenant; personal and professional correspondence(including letters to childhood friend Marjorie Saunders in 1958); personal photographs; New York Sun columns in print form, as well as word processed versions of each; three holograph notebooks.
Ormsby, Eric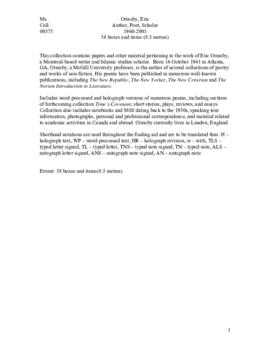 This collection contains papers and other material pertaining to the work of Eric Ormsby, a Montreal-based writer and Islamic studies scholar. Born 16 October 1941 in Atlanta, GA, Ormsby, a McGill professor, is the author of several collections of poetry and works of non-fiction. His poems have been published in numerous well-known publications, including The New Republic, The New Yorker, The New Criterion and the Norton Introduction to Literature.
Includes word-processed and holograph versions of numerous poems, including sections of forthcoming collection Time's Covenant, short stories, plays, reviews, and essays. Collection also includes notebooks and mss. dating back to the 1950s, speaking tour information, photographs, personal and professional correspondence, and material related to academic activities in Canada and abroad. Ormsby currently lives in London, England.