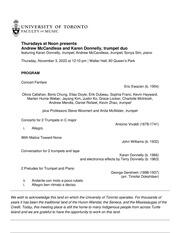 Andrew McCandless and Karen Donnelly, trumpet duo
CA OTUFM 51-CS22/23-TNS-DR 2022 068
File
November 3, 2022
File consists of a program and recording of an event that took place in Walter Hall.
Performers: Karen Donnelly, trumpet ; Andrew McCandless, trumpet ; Sonya Sim, piano
Program:
Concert fanfare / Eric Ewazen
Concerto for 2 trumpets in C major. Allegro / Antonio Vivaldi
With malice toward none / John Williams
Conversation for 2 trumpets and tape / Karen Donnelly and electronic effects by Terry Donnelly
2 preludes for trumpet and piano, Andante con moto e poco rubato ; Allegro ben ritmato e deciso / George Gershwin, arr. Timofei Dokshitser
Calls and echoes / Verne Reynolds.