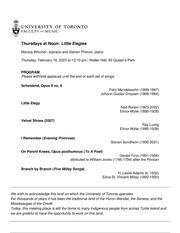 CA OTUFM 51-CS22/23-TNS-DR 2023 039
File
February 16, 2023
File consists of a program and recording of an event that took place in Walter Hall.
Performers: Monica Whicher, soprano ; Steven Philcox, piano
Program:
Part 1:
Scheidend, op. 9, no. 6 / Felix Mendelssohn ; Johann Gustav Droysen
Little elegy / Ned Rorem ; Elinor Wylie
Velvet shoes / Ray Lustig, Elinor Wylie
Evening primrose. I remember / Steven Sondheim
To a poet. On parent knees, op. posthumous / Gerald Finzi, attr. William Jones after the Persian
Five Millay songs. Branch by brach / H. Leslie Adams, Edna St. Vincent Millay
The New ghost / Ralph Vaughan Williams, Fredegond Shove
The Lordly Hudson / Ned Rorem, Paul Goodman
Part 2:
Hjertets melodier, op. 5, no. 3 / Jeg elsker Dig (Edvard Grieg, Hans Christian Andersen)
Peer Gynt, op. 23. Solveig's lullaby / Edvard Grieg, Henrik Ibsen
Five songs from Canadian traditional collections. J'ai perdu mon amant / arr. John Beckwith
Asteri mou, feggari mou / Mikis Theodorakis, Nikos Gatsos
Three songs for Diane Kaish, in memorium, 2015. Sonnet : Mindful of you the sodden earth in spring / Sheila Silver, Edna St. Vincent Millay
Down by the Salley gardens / Ivor Gurney, William Butler Yeats
My feet may take a little while / Errollyn Wallen
Nature boy / eden ahbez, arr. Sharon Minemoto..