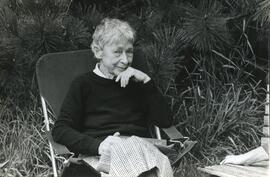 CA ON00389 F6-10
Series
1880 - 1998 ; 1933 - 1996 predominent

[இதன்] பகுதியானSheila Watson fonds
Series consists of Watson's personal photograph collection, including: photographs from the late nineteenth century belonging to her parents, Mr. C.E. Doherty and Mrs. Elweena Doherty; photographs, (some of which have been scanned), of Watson as an infant and child, along with her siblings and parents; pictures taken by Watson while teaching in Dog Creek, British Columbia, and while at the University of California, Berkeley taking a summer course; pictures taken by the Watsons while on vacation in Nanton, Alberta; pictures taken during the couple's year living in Paris, France; pictures of domestic activities and socializing while Watson was living in or visiting Edmonton, Alta., Toronto, ON, London, England and Vancouver, B.C.; photographs of Watson's nieces and nephews, and the children of her friends, particularly Barbara J. Mitchell, the sons of Diane and Frank Bessai and her godson Peter Bruckmann; and photographs of her pets. Also includes a number of professional portraits of both herself and her husband Wilfred.
A complete item list of the series can be found in Appendix of the finding guide.