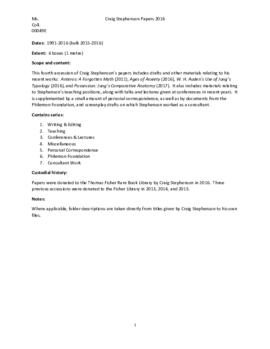 This fourth accession of Craig Stephenson's papers includes drafts and other materials relating to his recent works: Anteros: A Forgotten Myth (2011), Ages of Anxiety (2016), W. H. Auden's Use of Jung's Typology (2016), and Possession: Jung's Comparative Anatomy (2017). It also includes materials relating to Stephenson's teaching positions, along with talks and lectures given at conferences in recent years. It is supplemented by a small amount of personal correspondence, as well as by documents from the Philemon Foundation, and screenplay drafts on which Stephenson worked as a consultant.
Contains series:
Writing & Editing
Teaching
Conferences & Lectures
Miscellaneous
Personal Correspondence
Philemon Foundation
Consultant Work
Stephenson, Craig E.