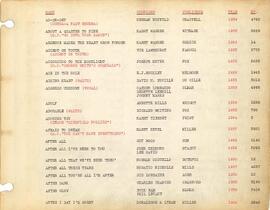 Canadian Broadcasting Corporation dance band collection
CA OTUFM 68
Collection
1833-1980, predominantly 1926-1951
Collection consists of dance band arrangements of popular songs amassed by the Canadian Broadcasting Corporation. The arrangements are predominantly foxtrots, but other dance forms are also represented: beguine, bolero, bossa nova, calypso, cha cha, gavotte, guaguancó, guajira, guaracha, habanera, jig, jump dance, mambo, march, mazurka, one-step, paso doble, polka, rumba, samba, serenade, son, swing, tango, two-step, waltz, and more.
The majority of arrangements are American imprints, but the collection also includes publications from Europe, Mexico, Cuba, and Canada. Many items also include a copy of the sheet music for voice and piano, and some also include manuscript parts, created or copied by Louis Waizman, who worked as a staff arranger from 1933 to 1951 for the Canadian Radio Broadcasting Commission (CRBC, renamed CBC in 1936).
Canadian Broadcasting Corporation.