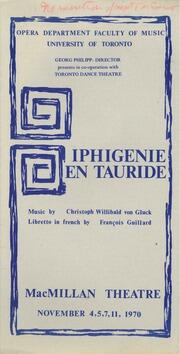 CA OTUFM 51-CS70/71-OD-PR 1970 14
File
November 4, 1970 - November 11, 1970
File consists of a program from a production by the Opera Department, Faculty of Music, University of Toronto in co-operation with Toronto Dance Theatre of Iphigenie en Tauride by Christoph Willibald von Gluck. Performances took place in MacMillan Theatre, Edward Johnson Building.
Performers: University of Toronto Symphony Orchestra ; Ernesto Barbini, conductor ; Georg Philipp, director ; Hal Travis, designer ; Donald Himes, choreographer ; David Hignell, lighting designer ; Lloyd Bradshaw, chorus master ; Eugene Plawutsky, Tibor Polgar, repetiteurs ; Douglas Holder, stage manager ; Paul Mills, Michele Dowsett, assistant directors ; Margaret Zeidman, Raisa Sadowa, Avo Kittask, Gary Relyea, Peter Barcza, David Meek, Robert Dicknoether, Lynn Blaser, Kathleen Ruddell, cast.