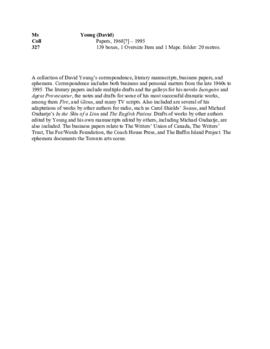 CA OTUTF MS COLL 00327 (Downsview Offsite)
Accession
1968-1995

Fait partie de David Young Papers
A collection of David Young's correspondence, literary manuscripts, business papers, and ephemera. Correspondence includes both business and personal matters from the late 1960s to 1995. The literary papers include multiple drafts and the galleys for his novels Incognito and Agent Provocateur, the notes and drafts for some of his most successful dramatic works, among them Fire, and Glenn, and many TV scripts. Also included are several of his adaptations of works by other authors for radio, such as Carol Shield's Swann, and Michael Ondaatje's In the Skin of a Lion and The English Patient. Drafts of works by other authors edited by Young and his own manuscripts edited by others, including Michael Ondaatje, are also included. The business papers relate to The Writer's Union of Canada, The Writers' Trust, The For/Words Foundation, Coach House Press and The Baffin Island Project. The ephemera documents the Toronto arts scene.