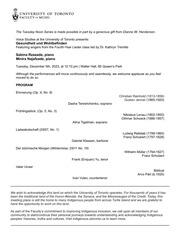 File consists of a program and recording of an event that took place in Walter Hall.
Performers: singers from the fourth-year Lieder class by Dr. Kathryn Tremills ; Sabina Rzazade, Minira Najafzade, piano
Program:
Erinnerung, op. 4, no. 8 / Christian Reinhold, Gustav Jenner (Dasha Tereshchenko, soprano)
Frühlingsblick, op. 5, no. 3 / Nikolaus Lenau, Othmar Shoeck (Alina Tigelman, soprano)
Liebesbotschaft, D.957, no. 1 / Ludwig Rellstab, Franz Schubert (Gabriel Klassen, baritone)
Winterreise. Die stürmische Morgen, D. 911, no. 18 / Wilhelm Müller, Franz Schubert (Frank (Enquan) Yu, tenor)
Vater Unser / Arvo Pärt (Ivan Vutev, countertenor)
Was weinst du, Blümlein, op. 23, no. 1 / Hermann Rollett, Clara Schumann (Rhianna McDonald, soprano)
Stiller fliedertrunkner Sommerabend, op. 28 / Oskar Ludwig Brandt, Luise Greger (Tarquin Wongkee, mezzo-soprano)
Heiliges Leid, op. 95 / Friedrich Länger, Luise Greger (Taline Yeremian, mezzo-soprano)
Meine Rose, op. 90, no. 2 / Nikolaus Lenau, Robert Schumann (William Salinas-Crosby, tenor)
Über allen Gipfeln / J.W. von Goethe, Mary Howe (Jamie Bateman, soprano)
Die Einsame, op. 9, no. 2 / Joseph van Eichendorff, Hans Pfitzner (Rayleigh Becker, tenor)
Ich atmet' einen Linden duft, op. 44, no. 1 / Friedrich Rückert, Gustav Mahler (Janelle Yausif, soprano)
Wer rief dich denn?, no. 6 / trans. Paul Heyse, Hugo Wolf (Maren Richardson, soprano)
Nachruf / Karl Stieler, Clara Faißt (Sarah Luedke, mezzo-soprano)
Allerseelen, op. 10, no. 8 (Hermann von Gilm, Richard Strauss (Jaidyn McFadden, soprano)
Erhebung, op. 2, no. 3 / Richard Dehmel, Arnold Schoenberg (Nikan Ingabire Kanate, soprano).