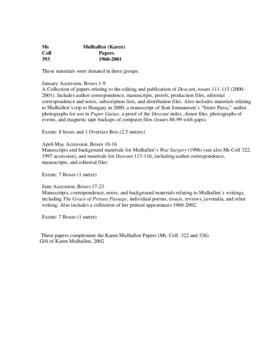 January Accession, Boxes 1-9:
A collection of papers relating to the edition and publication of Descant, issues 111-115 (2000-2001). Includes author correspondence, manuscripts, proofs, production files, editorial correspondence and notes, subscription lists, and distribution files. Also includes materials relating to Mulhallens trip to Hungary in 2000, a manuscript of Stan Jonnanesen's "Sister Patsy", author photographs for use in Paper Guitar, a proof of the Descant index, donor files, photographs of events, and magnetic tape backups of computer files (issues 88-99 with gaps).
April-May Accession, Boxes 10-16:
Manuscripts and background materials for Mulhallen's War Surgery (1996), and materials for Descant 113-116, including author correspondence, manuscripts and editorial files.
June Accession, Boxes 17-23:
Manuscripts, correspondence, notes, and background materials relating to Mulhallen's writings, including The Grace of Private Passage, individual poems, essays, reviews, juvenalia, and other writing. Also includes a collection of her printed appearances 1960-2002.
Mulhallen, Karen