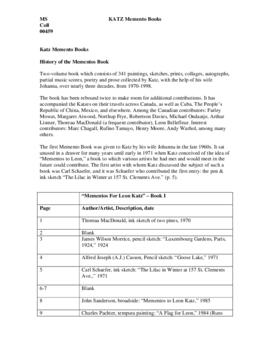 Two-volume book which consists of 341 paintings, sketches, prints, collages, autographs, partial music scores, poetry and prose collected by Katz, with the help of his wife Johanna, over nearly three decades, from 1970-1998.
Among the Canadian contributors: Farley Mowat, Margaret Atwood, Northup Frye, Robertson Davies, Michael Ondaatje, Arthur Lismer, Thoreau MacDonald (a frequent contributor), Leon Bellefleur. Interest
contributors: Marc Chagall, Rufino Tamayo, Henry Moore, Andy Warhol, among many others.
Katz, Leon