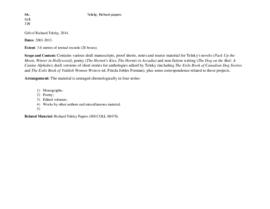 Contains various draft manuscripts, proof sheets, notes and source material for Teleky's novels (Pack Up the Moon, Winter in Hollywood), poetry (The Hermit's Kiss, The Hermit in Arcadia) and non-fiction writing (The Dog on the Bed: A Canine Alphabet; draft versions of short stories for anthologies edited by Teleky (including The Exile Book of Canadian Dog Stories and The Exile Book of Yiddish Women Writers ed. Frieda Johles Forman); plus some correspondence related to these projects.
Arrangement: The material is arranged chronologically in four series:
1) Monographs;
2) Poetry;
3) Edited volumes;
4) Works by other authors and miscellaneous material.
Teleky, Richard