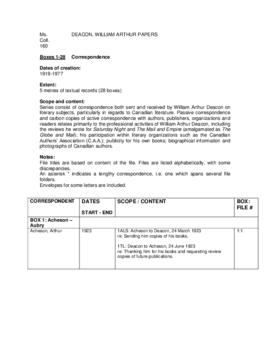 William Arthur Deacon Correspondence
Series consists of correspondence sent and received by William Arthur Deacon on literary subjects, particularly in
regards to Canadian literature. Passive correspondence and carbon copies of active correspondence with authors, publishers, organizations and readers relates primarily to the professional activities of William Arthur Deacon, including the reviews he wrote for Saturday Night and The Mail and Empire (amalgamated as The Globe and Mail); his participation within literary organizations such as the Canadian Authors' Association (C.A.A.); publicity for his own books; biographical information and photographs of Canadian authors.