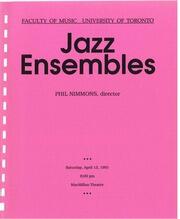 CA OTUFM 51-CS90/91-JZ-C 1991 37-38
File
April 13, 1991
File consists of a program and recording from a concert by the Jazz Ensembles, directed by Phil Nimmons, in MacMillan Theatre. Selections were made from arrangements and compositions by Rob McConnell and Phil Nimmons, and were announced from the stage.
Program:
Band call / Phil Nimmons
Think nice thoughts / Phil Nimmons
Tickle toe / Lester Young, arr. Rob McConnell
Darn that dream / arr. Rob McConnell
My man Bill / Rob McConnell
Close enough for love / Rob McConnell
[Unidentified]
Snooze you lose blues / Matt Harris
Lookin' up / Matt Harris
Backyard blues / Matt Harris
Afterglow / Peter Kater
Last time around / Pete Colman
[Band transition : Summertime / George Gershwin (Phil Nimmons, solo clarinet)]
I've got rhythm / arr. Rob McConnell
Lisa
Phlip's trip / Phil Nimmons.