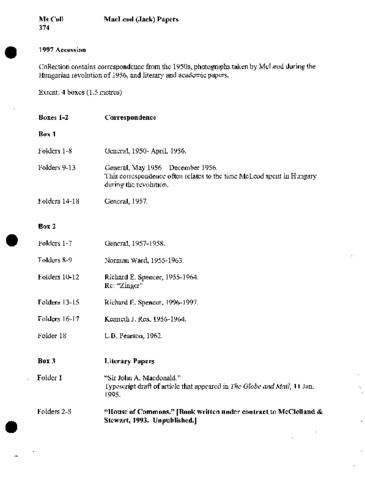 Zone d'identification
Titre
Jack MacLeod Papers
Étendue matérielle et support
4 boxes (1.4 metres) + 2 boxes (.25 metres)
Zone du contexte
Nom du producteur
(1932-2016)
Notice biographique
Jack MacLeod was a Canadian novelist, political journalist and professor. Born in 1932 in Regina, he received his B.A and M.A in economics at the University of Saskatchewan and obtained his PhD in political science at the University of Toronto. He was a professor in the department of Political Science at the University of Toronto from 1959 to 1996, during which time he published many academic texts, including The Canadian Political Tradition, Basic Readings (1987), Sir John: An Anecdotal Life of John A. Macdonald (1989, with Cynthia Smith) and the Oxford Book of Canadian Political Anecdotes (1988). He was in Budapest during the Hungarian revolution in 1956, which spurred his career in political journalism, with articles appearing in The Globe and Mail, The Toronto Star, Saturday Night, Maclean's, Canadian Forum and the Journal of Canadian Studies. He also served as a political commentator on CBC television and radio. He was a well-known novelist, and among his published works are: Zinger and Me (1979), Going Grand (1983), Uproar (2008), Reflections in My Wintertime (2015) and to Build a Better World (2016). He died in 2016.
Source immédiate d'acquisition ou de transfert
Gift of Jack MacLeod, 1997 and 2003.
Zone du contenu et de la structure
Portée et contenu
Collection contains correspondence from the 1950s, photographs taken by MacLeod during the Hungarian revolution of 1956, and literary and academic papers.
Second accession: Includes two drafts, with new chapters for his novel Uproar, October 2003. Updated chapter list included
Évaluation, élimination et calendrier de conservation
Zone des conditions d'accès et d'utilisation
Conditions de reproduction
Notes sur la langue et l'écriture
Caractéristiques matérielle et contraintes techniques
Instruments de recherche
Zone des sources complémentaires
Existence et lieu de conservation des originaux
Existence et lieu de conservation des copies
Unités de description associées
Zone des notes
Identifiant(s) alternatif(s)
Identifiant de la description
Identifiant du service d'archives
Thomas Fisher Rare Book Library, University of Toronto
Règles et/ou conventions utilisées
Objet numérique - métadonnées
Objet numérique (Matrice) zone des droits
Objet numérique (Référence) zone des droits
Objet numérique (Imagette) zone des droits