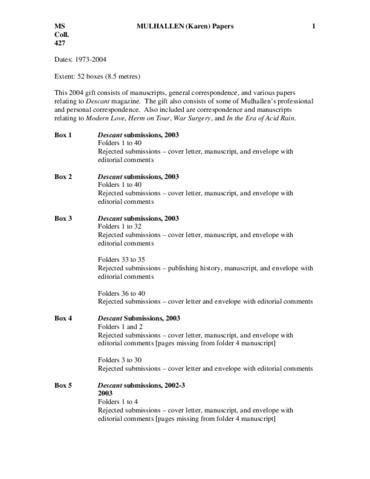 Zone d'identification
Titre
Karen Mulhalen Papers
Étendue matérielle et support
Zone du contexte
Nom du producteur
(1942-)
Notice biographique
Karen Ann Mulhallen is a write, publisher, Professor of English at Ryerson Polytechnic University and the editor-in-chief of Descant. Born May 1, 1942 in Woodstock, Ontario to H.J. Thomas and Edna Anne (neé Naylor), Mulhallen was educated at Waterloo Lutheran University (B.A. 1963) and the University of Toronto (M.A. 1967, Ph.D. 1975).
Mulhallen was Lecturer at Ryerson from 1966, and became a Professor in 1971. Her area of scholarly expertise is 18th century English art. She is the author of several books of poetry, a work of travel fiction, and articles on the literary and visual arts in Canadian journals and magazines, including Blewointment, Quarry, and The White Wall Review. She was the Poetry Review Editor and the Arts Feature Editor for Canadian Forum (1974-1979), and has edited several collections of poetry, travel writing, and criticism for Somerville House Publishers. As editor-in-chief, Mulhallen has made Descant one of Canada's
Mulhallen was a finalist in the CBC Literary Awards (1989) and the CBC-Saturday Night Literary Awards (1994), and won the Maclean Hunter Arts Journalism Fellowship (1994), and the Hawthornden Castle Fellowship (1996). She was the Sarwan Sahota Distinguished Professor at Ryerson (1998), and has received various other grants and fellowships. She has also been a grants and awards adjudicator, and has made numerous public readings and broadcasts for television and radio.
Source immédiate d'acquisition ou de transfert
Gift of Karen Mulhallen, 2004.
Zone du contenu et de la structure
Portée et contenu
Consists of manuscripts, general correspondence, and various papers relating to Descant magazine. The gift also consists of some of Mulhallen's professional and personal correspondence. Also included are correspondence and manuscripts relating to Modern Love, Herm on Tour, War Surgery and In The Era of Acid Rain.
Évaluation, élimination et calendrier de conservation
Zone des conditions d'accès et d'utilisation
Conditions de reproduction
Notes sur la langue et l'écriture
Caractéristiques matérielle et contraintes techniques
Instruments de recherche
Zone des sources complémentaires
Existence et lieu de conservation des originaux
Existence et lieu de conservation des copies
Unités de description associées
Zone des notes
Identifiant(s) alternatif(s)
Identifiant de la description
Identifiant du service d'archives
Thomas Fisher Rare Book Library, University of Toronto
Règles et/ou conventions utilisées
Objet numérique - métadonnées
Objet numérique (Matrice) zone des droits
Objet numérique (Référence) zone des droits
Objet numérique (Imagette) zone des droits