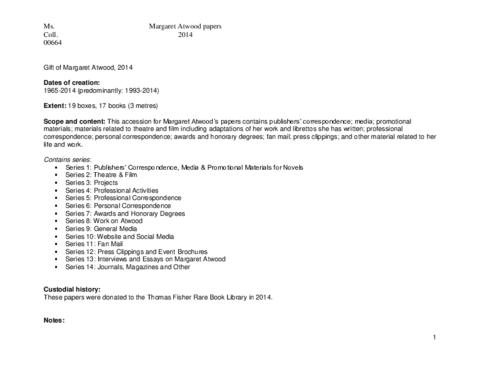 Zone d'identification
Titre
Margaret Atwood Papers
Étendue matérielle et support
19 boxes, 17 books (3 metres)
Zone du contexte
Nom du producteur
(1939-)
Notice biographique
Margaret Atwood was born in 1939 in Ottawa, and grew up in northern Ontario and Quebec, and in Toronto. She received her undergraduate degree from Victoria College at the University of Toronto and her master's degree from Radcliffe College.
Margaret Atwood is the author of more than forty volumes of poetry, children's literature, fiction, and non-fiction, but is best known for her novels, which include The Edible Woman (1969), The Handmaid's Tale (1985), The Robber Bride (1994), Alias Grace (1996), and The Blind Assassin, which won the prestigious Booker Prize in 2000. Her latest work is a book of short stories called Stone Mattress: Nine Tales (2014). Her newest novel, MaddAddam (2013), is the final volume in a three-book series that began with the Man-Booker prize-nominated Oryx and Crake (2003) and continued with The Year of the Flood (2009). The Tent (mini-fictions) and Moral Disorder (short fiction) both appeared in 2006. Her most recent volume of poetry, The Door, was published in 2007. In Other Worlds: SF and the Human Imagination, a collection of non-fiction essays appeared in 2011. Her non-fiction book, Payback: Debt and the Shadow Side of Wealth was adapted for the screen in 2012. Ms. Atwood's work has been published in more than forty languages, including Farsi, Japanese, Turkish, Finnish, Korean, Icelandic and Estonian.
Margaret Atwood currently lives in Toronto with writer Graeme Gibson.
Source immédiate d'acquisition ou de transfert
Gift of Margaret Atwood, 2014.
Zone du contenu et de la structure
Portée et contenu
This accession for Margaret Atwood's papers contains publishers' correspondence; media; promotional materials; materials related to theatre and film including adaptations of her work and librettos she has written; professional correspondence; personal correspondence; awards and honorary degrees; fan mail; press clippings; and other material related to her life and work.
Évaluation, élimination et calendrier de conservation
Zone des conditions d'accès et d'utilisation
Conditions de reproduction
Margaret Atwood retains copyright and literary rights to all material written by her. Requests for permission for extensive photocopying should be referred to McClelland & Stewart Publishers.
Notes sur la langue et l'écriture
Caractéristiques matérielle et contraintes techniques
Instruments de recherche
Zone des sources complémentaires
Existence et lieu de conservation des originaux
Existence et lieu de conservation des copies
Unités de description associées
Zone des notes
Identifiant(s) alternatif(s)
Identifiant de la description
Identifiant du service d'archives
Thomas Fisher Rare Book Library, University of Toronto
Règles et/ou conventions utilisées
Objet numérique - métadonnées
Objet numérique (Matrice) zone des droits
Objet numérique (Référence) zone des droits
Objet numérique (Imagette) zone des droits