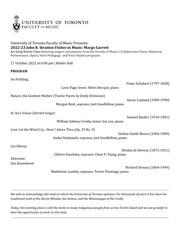 Zone d'identification
Cote
CA OTUFM 51-CS22/23-FGA-DR 2022 057
Titre
Margo Garrett : art song master class
Date(s)
October 17, 2022 (Production)
Étendue matérielle et support
Zone du contexte
Source immédiate d'acquisition ou de transfert
Zone du contenu et de la structure
Portée et contenu
File consists of a program and recording of an event that took place in Walter Hall. Margo Garrett was the John R. Stratton Visitor in Music (2022-2023).
Program:
Im Fruhling / Franz Schubert (Leon Page, tenor ; Helen Becque, piano)
Twelve poems by Emily Dickinson. Nature, the gentlest mother / Aaron Copland (Morgan Reid, soprano ; Joel Goodfellow, piano)
Hermit songs. St. Ita's vision / Samuel Barber (William Salinas-Crosby, tenor ; Joy Lee, piano)
Love let the wind cry…How I adore thee, op. 29, no. 3 / Undine Smith Moore (Anika Venkatesh, soprano ; Joel Goodfellow, piano)
Les hiboux / Deodat de Severac (Chihiro Yasufuku, soprano ; Chun Yi Tsang, piano)
Das Rosenband / Richard Strauss (Madeleine Luntley, soprano ; Trevor Flemings, piano).
Évaluation, élimination et calendrier de conservation
Zone des conditions d'accès et d'utilisation
Conditions de reproduction
Notes de langue et graphie
Caractéristiques matérielle et contraintes techniques
Zone des sources complémentaires
Existence et lieu de conservation des originaux
Existence et lieu de conservation des copies
For a digital streaming copy of this concert, please contact the Music Library.
Unités de description associées
Zone des notes
Identifiant(s) alternatif(s)
Zone du contrôle de la description
Identifiant de la description
Identifiant du service d'archives
Règles et/ou conventions utilisées
Dates de production, de révision, de suppression
Objet numérique - métadonnées
Objet numérique (URI externe) zone des droits
Objet numérique (Référence) zone des droits
Objet numérique (Imagette) zone des droits