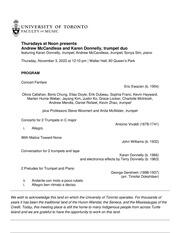 Zone d'identification
Cote
CA OTUFM 51-CS22/23-TNS-DR 2022 068
Titre
Andrew McCandless and Karen Donnelly, trumpet duo
Date(s)
November 3, 2022 (Production)
Étendue matérielle et support
Zone du contexte
Source immédiate d'acquisition ou de transfert
Zone du contenu et de la structure
Portée et contenu
File consists of a program and recording of an event that took place in Walter Hall.
Performers: Karen Donnelly, trumpet ; Andrew McCandless, trumpet ; Sonya Sim, piano
Program:
Concert fanfare / Eric Ewazen
Concerto for 2 trumpets in C major. Allegro / Antonio Vivaldi
With malice toward none / John Williams
Conversation for 2 trumpets and tape / Karen Donnelly and electronic effects by Terry Donnelly
2 preludes for trumpet and piano, Andante con moto e poco rubato ; Allegro ben ritmato e deciso / George Gershwin, arr. Timofei Dokshitser
Calls and echoes / Verne Reynolds.
Évaluation, élimination et calendrier de conservation
Zone des conditions d'accès et d'utilisation
Conditions de reproduction
Notes de langue et graphie
Caractéristiques matérielle et contraintes techniques
Zone des sources complémentaires
Existence et lieu de conservation des originaux
Existence et lieu de conservation des copies
For a digital streaming copy of this concert, please contact the Music Library.
Unités de description associées
Zone des notes
Identifiant(s) alternatif(s)
Zone du contrôle de la description
Identifiant de la description
Identifiant du service d'archives
Règles et/ou conventions utilisées
Dates de production, de révision, de suppression
Objet numérique - métadonnées
Objet numérique (URI externe) zone des droits
Objet numérique (Référence) zone des droits
Objet numérique (Imagette) zone des droits