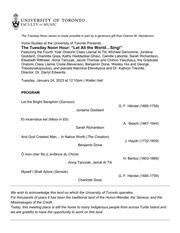 Zone d'identification
Cote
OTUFM 51-CS22/23-VSS-DR 2023 015
Titre
Let all the world…sing!
Date(s)
January 24, 2023 (Production)
Étendue matérielle et support
Zone du contexte
Source immédiate d'acquisition ou de transfert
Zone du contenu et de la structure
Portée et contenu
File consists of a program and recording of an event that took place in Walter Hall.
Performers: Fourth Year Oratorio Class (Jamal Al Titi, Michael Denomme, Jordana Goddard, Charlotte Goss, Kathy Haddadkar-Ghavi, Camille Labonté, Sarah Richardson, Elisabeth Ritthaler, Anna Tanczak, Jacob Thomas and Chihiro Yasufuku) ; Graduate Oratorio Class (Jamie Coole-Stevenson, Benjamin Done, Wesley Hui and George Theodorakopoulos) ; Narmina Efendiyeva and Dr. Kathryn Tremills, piano ; Dr. Darryl Edwards, director
Program:
Samson. Let the bright seraphim / G.F. Handel (Jordana Goddard)
Mass in E flat. Et incarnatus est / A. Beach (Sarah Richardson)
The Creation. And God created man…in native worth / J. Haydn (Benjamin Done)
L'enfance du Christ. O mon cher fils / H. Berlioz (Anna Tanczak, Jamal al Titi)
Semele. Myself I shall adore / G.F. Handel (Charlotte Goss)
Misa a Buenos Aires. Qui tollis pecata mundi / M. Palmeri (Kathy Haddadkar-Ghavi)
Weihnachtoratorium. Großer Herr… / J.S. Bach (Jamal Al Titi)
Mass in G. Benedictus / F. Schubert (Charlotte Goss, Jacob Thomas, Michael Denomme, Kathy Haddadkar-Ghavi)
Weihnachtshistorie. Ziehet hin / H. Schutz (Wesley Hui)
Kleine Orgelmesse. Benedictus / J. Haydn (Camille Labonte)
Israel in Egypt. The Lord is a Man of War / G.F. Handel (Jamie Coole-Stevenson, George Theodorakopoulos)
Red virburnum. My son, my child / L. Dychenko (Anna Tanczak)
Magnificat. Esurientes implevit bonis / J.S. Bach (Elisabeth Ritthaler)
Eden. Behold what beauty glideth / C. Stanford (Chihiro Yasufuku, Jacob Thomas).
Évaluation, élimination et calendrier de conservation
Zone des conditions d'accès et d'utilisation
Conditions de reproduction
Notes de langue et graphie
Caractéristiques matérielle et contraintes techniques
Zone des sources complémentaires
Existence et lieu de conservation des originaux
Existence et lieu de conservation des copies
For a digital streaming copy of this concert, please contact the Music Library.
Unités de description associées
Zone des notes
Identifiant(s) alternatif(s)
Zone du contrôle de la description
Identifiant de la description
Identifiant du service d'archives
Règles et/ou conventions utilisées
Dates de production, de révision, de suppression
Objet numérique - métadonnées
Objet numérique (URI externe) zone des droits
Objet numérique (Référence) zone des droits
Objet numérique (Imagette) zone des droits