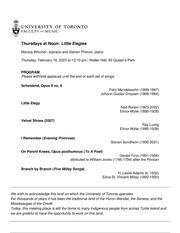 Zone d'identification
Cote
OTUFM 51-CS22/23-TNS-DR 2023 039
Date(s)
February 16, 2023 (Production)
Étendue matérielle et support
Zone du contexte
Source immédiate d'acquisition ou de transfert
Zone du contenu et de la structure
Portée et contenu
File consists of a program and recording of an event that took place in Walter Hall.
Performers: Monica Whicher, soprano ; Steven Philcox, piano
Program:
Part 1:
Scheidend, op. 9, no. 6 / Felix Mendelssohn ; Johann Gustav Droysen
Little elegy / Ned Rorem ; Elinor Wylie
Velvet shoes / Ray Lustig, Elinor Wylie
Evening primrose. I remember / Steven Sondheim
To a poet. On parent knees, op. posthumous / Gerald Finzi, attr. William Jones after the Persian
Five Millay songs. Branch by brach / H. Leslie Adams, Edna St. Vincent Millay
The New ghost / Ralph Vaughan Williams, Fredegond Shove
The Lordly Hudson / Ned Rorem, Paul Goodman
Part 2:
Hjertets melodier, op. 5, no. 3 / Jeg elsker Dig (Edvard Grieg, Hans Christian Andersen)
Peer Gynt, op. 23. Solveig's lullaby / Edvard Grieg, Henrik Ibsen
Five songs from Canadian traditional collections. J'ai perdu mon amant / arr. John Beckwith
Asteri mou, feggari mou / Mikis Theodorakis, Nikos Gatsos
Three songs for Diane Kaish, in memorium, 2015. Sonnet : Mindful of you the sodden earth in spring / Sheila Silver, Edna St. Vincent Millay
Down by the Salley gardens / Ivor Gurney, William Butler Yeats
My feet may take a little while / Errollyn Wallen
Nature boy / eden ahbez, arr. Sharon Minemoto..
Évaluation, élimination et calendrier de conservation
Zone des conditions d'accès et d'utilisation
Conditions de reproduction
Notes de langue et graphie
Caractéristiques matérielle et contraintes techniques
Zone des sources complémentaires
Existence et lieu de conservation des originaux
Existence et lieu de conservation des copies
For a digital streaming copy of this concert, please contact the Music Library.
Unités de description associées
Zone des notes
Identifiant(s) alternatif(s)
Zone du contrôle de la description
Identifiant de la description
Identifiant du service d'archives
Règles et/ou conventions utilisées
Dates de production, de révision, de suppression
Objet numérique - métadonnées
Objet numérique (URI externe) zone des droits
Objet numérique (Référence) zone des droits
Objet numérique (Imagette) zone des droits