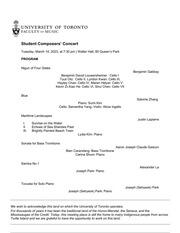 Zone d'identification
Cote
OTUFM 51-CS22/23-SC-DR 2023 050
Titre
Student composers' concert
Date(s)
March 14, 2023 (Production)
Étendue matérielle et support
Zone du contexte
Source immédiate d'acquisition ou de transfert
Zone du contenu et de la structure
Portée et contenu
File consists of a program and recording of an event that took place in Walter Hall.
Program:
Nigun of four gates / Benjamin Gabbay (Benjamin Louwersheimer, Tuuli Olo, Lyndon Kwan, Hayley Chan, Maren Helyar, Kevin Zi-Xiao He, Sirui Chen, cello)
Blue / Salome Zhang (Sumi Kim, piano ; Samantha Yang, cello ; Alicia Ingalls, violin)
Maritime landscapes / Justin Lapierre (Lydia Kim, piano)
Sonata for bass trombone / Aaron Joseph Claude Gascon (Bien Carandang, bass trombone ; Carina Shum, piano)
Samba no. 1 / Alexander La (Joseph Park, piano)
Toccata for solo piano / Joseph (Sehyeok) Park (Joseph (Sehyeok) Park, piano)
<Partita Rococo> for two clarinets, percussion, and piano / Minjoo Kim (Emma Colette Moss, conductor ; Gavin Warren, Emerald Sun, clarinets ; Bevis Ng, marimba and xylophone ; Martin Kesuma, piano)
Life cycles of visual settings / Chiara Urban (Veronica Zupanic, Rsie Ryel, violins ; Thijs Vorstman, viola ; Cloe Liang, cello)
Open graphic score no. 2 / Nolan Hildebrand (Erik Kreem, piano and interpretation)
Piano fantasia no. 1 / Kyle Meng (Joseph Park, piano)
Coupe de grace / Anthony Gunadi (Vincent Poon, Satchi Kanashiro, violins ; Thijs Vorstman, viola ; Maren Helyar, cello)
Castles / Stephen Morris (Thomas Li, marimba and wind chimes)
I'm nobody! Who are you? / Yu-Pin Lai (Katie Kirkpatrick, soprano ; Jisu Woo, violin ; Thijs Vorstman, viola ; Hayley Chan, cello).
Évaluation, élimination et calendrier de conservation
Zone des conditions d'accès et d'utilisation
Conditions de reproduction
Notes de langue et graphie
Caractéristiques matérielle et contraintes techniques
Zone des sources complémentaires
Existence et lieu de conservation des originaux
Existence et lieu de conservation des copies
For a digital streaming copy of this concert, please contact the Music Library.
Unités de description associées
Zone des notes
Identifiant(s) alternatif(s)
Zone du contrôle de la description
Identifiant de la description
Identifiant du service d'archives
Règles et/ou conventions utilisées
Dates de production, de révision, de suppression
Objet numérique - métadonnées
Objet numérique (URI externe) zone des droits
Objet numérique (Référence) zone des droits
Objet numérique (Imagette) zone des droits