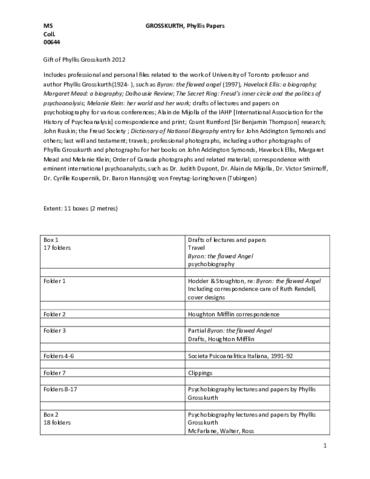 அடையாளப் பரப்பு
உசாத்துணைக் குறி
CA OTUTF MS COLL 00644
தலைப்பு
Phyllis Grosskurth Papers
சூழமைவுப் பரப்பு
ஆக்கியவரின் பெயர்
(1924-2015)
வாழ்க்கை வரலாற்று வரலாறு?
biographical note
Canadian scholar and writer, Phyllis Grosskurth was born in Toronto. She began teaching English at the University of Toronto in 1965 and retired in 1989. Her teaching and research has focused on biography and the history of psychoanalysis. She has published several biographies, notably John Addington Symonds: A Biography (1964), which won the Governor-General's Award for nonfiction and the University of British Columbia Award for Biography in 1965. Her other books include Leslie Stephen (1968), Gabrielle Roy (1969), Havelock Ellis: A Biography (1980), Melanie Klein: Her World and Her Work (1986), Margaret Mead (1988), The Secret Ring: Freud's Inner Circle and the Politics of Psychoanalysis (1991), Byron: The Flawed Angel (1997), and Elusive Subject: A Biographer's Life (1999).
Immediate source of acquisition or transfer
Gift of Phyllis Grosskurth, 2012.
உள்ளடக்கம், கட்டமைவுப் பரப்பு?
நோக்கமும் உள்ளடக்கமும்
Includes professional and personal files related to the work of University of Toronto professor and author Phyllis Grosskurth(1924- ), such as Byron: the flawed angel (1997), Havelock Ellis: a biography; Margaret Mead: a biography; Dalhousie Review; The Secret Ring: Freud's inner circle and the politics of psychoanalysis; Melanie Klein: her world and her work; drafts of lectures and papers on
psychobiography for various conferences; Alain de Mijolla of the IAHP [International Association for the History of Psychoanalysis] correspondence and print; Count Rumford [Sir Benjamin Thompson] research; John Ruskin; the Freud Society ; Dictionary of National Biography entry for John Addington Symonds and others; last will and testament; travels; professional photographs, including author photographs of Phyllis Grosskurth and photographs for her books on John Addington Symonds, Havelock Ellis, Margaret Mead and Melanie Klein; Order of Canada photographs and related material; correspondence with eminent international psychoanalysts, such as Dr. Judith Dupont, Dr. Alain de Mijolla, Dr. Victor Smirnoff, Dr. Cyrille Koupernik, Dr. Baron Hannsjörg von Freytag-Loringhoven (Tubingen).
Appraisal, destruction and scheduling
அணுக்கம், பயன் பரப்பு நிபந்தனைகள்?
அணுக்க ஆளுகை நிபந்தனைகள்?
Conditions governing reproduction
Language and script notes
இயற்பியல் சிறப்பியல்புகளும் தொழில்நுட்பத் தேவைகளும்
தொடர்புடைய பொருட் பரப்பு
Existence and location of originals
Existence and location of copies
Related units of description
குறிப்புகள் பரப்பு
மாற்று அடையாளம்காட்டிகள்/ இனங்காணி?
அணுக்க நுழைவாயில்கள்/ அணுகுமுனைகள்?
பொருட்துறை அணுக்க நுழைவாயில்கள்
பெயர் அணுக்க நுழைவாயில்கள்
வகைமை அணுக்க நுழைவாயில்கள்?
நிறுவன அடையாளம்காட்டி
Thomas Fisher Rare Book Library, University of Toronto
Rules and/or conventions used
Digital object (Master) rights area
Digital object (Reference) rights area
Digital object (Thumbnail) rights area